-->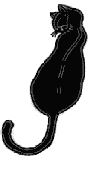 Welcome to my Catwalk Homepage
This page is dedicated to those great people who regularly play on the Catwalk! It is a special interest room in the game Acrophobia - the funnest place on the web!!
Come on in and meet the gang...
---
Feline jokes to tickle your funny bone...
---
See our famous cats, dogs, birds and other creatures we adore...
---
A collection of photo's from Catwalker's meetings with their acro buds. We are just one big happy family!
---
To purchase a book, click on the links below.

Please send in your pictures and jokes for posting on my site!
---
Don't forget to check out the family's other sites at our Homepage"